About
The University of California system has been committed to responsible stewardship of its resources, education and innovation for the public good since its first campus opened in 1868. Today, its 10 campuses and five medical centers are nationally recognized living laboratories of sustainability working to ensure that students have a healthy environment in which to learn for generations to come.
Sustainability at UC San Diego
At UC San Diego, sustainability is part of the institutional DNA imparted to us by Roger Revelle, one of the university's founders and a pioneer of climate change research. Over the years, we've built on that legacy to become one of the nation's most sustainable universities.
Campus Units
Achieving our sustainability goals takes the collective effort of everyone at UC San Diego. Staff, students and faculty from across many areas are working collaboratively to develop solutions and elevate initiatives for a more sustainable campus. Together, we comprise UC San Diego Sustainability. Learn more about what these campus units are doing to make a difference.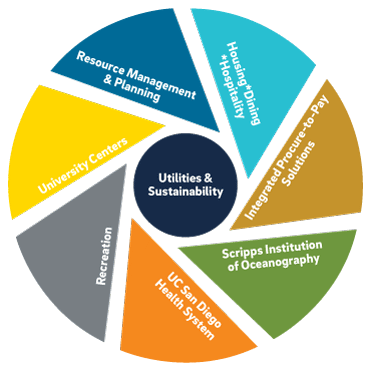 Goals
Our campus has established and follows key Principles of Sustainability and an Advisory Committee on Sustainability provides a forum to bring together academic program, facility planning and campus operating interests in sustainability. Key sustainability goals include:
Achieve zero waste
Carbon neutrality (emitting net zero greenhouse gases) from our buildings and vehicle fleet by 2025 and from all sources by 2050
36 percent reduction in growth-adjusted potable water consumption by 2025, when compared to a three-year average baseline of FY 2005-06, FY 2006-07, and FY 2007-08
20 percent sustainable food purchasing for campus and medical foodservice operations (i.e. Fair Trade, USDA Organic, locally and regionally grown, Marine Stewardship Council Certified, etc.)
Food security for the campus community, especially students, by 2025
LEED Silver or better certification for all new buildings and major renovations
Align systemwide buying power with UC's strategic goals to procure products and services in a conscious, sustainable manner
Learn more about our sustainability focus areas and how you can get involved.
Diversity, Equity and Inclusion Statement of
UC Sustainability Offices and Staff
We recognize that the environmental and sustainability fields have a legacy of systemic racism that impacts all of our sustainability work. We have a collective and individual responsibility to learn about environmental racism and systemic racism and to address and dismantle it. In order to achieve this, UC San Diego Sustainability signed onto a Diversity, Equity, and Inclusion Statement of UC Sustainability Offices and Staff that commits us to specific actions, accountability, and transparency.